Blog  Key GRC Takeaways from the 2023 IANS Information Security Forum
Key GRC Takeaways from the 2023 IANS Information Security Forum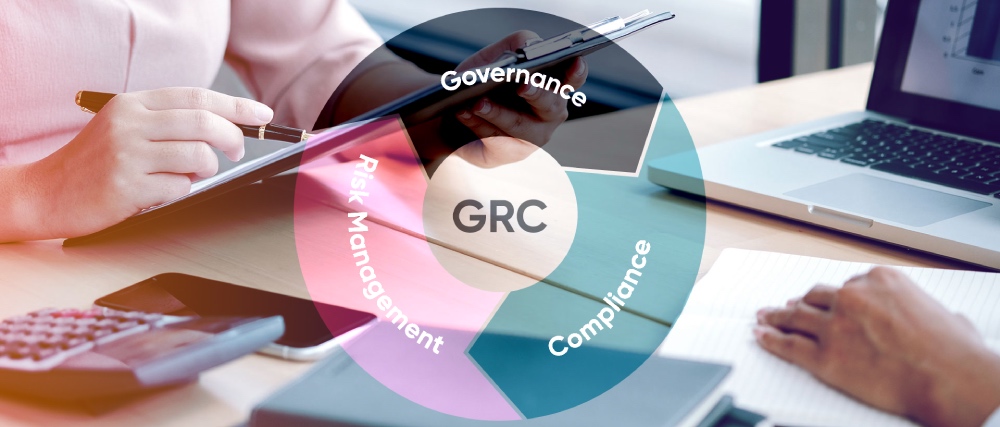 Like the last three quarters, the IANS Information Security Forum has just sped through like a subway train. The three-day event launched the final leg of 2023 with fresh insights to prepare GRC and cybersecurity leaders for the remarkably broad and complex challenges they will certainly face in the new year ahead.
Held in Atlanta, the forum covered much ground: including Security Operations, Security Architecture, Threats and Vulnerabilities, and GRC (Governance, Risk Management, and Compliance).
While TrustNet provides expertise and services in all four areas, the last topic lies closest to our mission. For two decades, TrustNet has been an industry leader in managed security and compliance, empowering enterprises and SMBs with the guidance, tools, and practices they need to accurately assess and mitigate risks, meet regulatory standards, and remain in a state of good governance.
The forum explored many of the challenges we help our clients hurdle, including supply chain risks and the increasing scope and complexity of data privacy regulations.
Here's our take on how integrating GRC into your overall cybersecurity strategy can help build trusted relationships with all your stakeholders — and how that seed of trust will lead to improved efficiencies, revenue growth, and a more secure business environment.
What are GRC and Its Core Components?
GRC stands for Governance, Risk, and Compliance. It is a framework used by businesses to:
Achieve their goals in an honest and straightforward way.
Manage uncertainties, threats, and risks.
Follow regulations and standards set by their governments and industries.
GRC is based on proven best practices that can help companies make better choices, work more efficiently, protect their assets, save money, and achieve good business outcomes.
Governance refers to how a company sets and follows its strategic goals, ethical standards, and social responsibilities. It involves corporate guidelines, policies, roles, and controls that ensure effective management, administration, and collaboration across the organization.
Risk Management deals with various threats and opportunities an organization faces. It involves identifying, analyzing, and responding to different types of risks, such as financial, legal, commercial, technological, and security. One of the biggest risks today is cybercrime, which can undermine information security and cause serious losses.
Compliance is the practice of following the rules, laws, and standards that apply to a company's operations. It involves keeping documents updated, implementing controls, and avoiding penalties. Some examples of compliance areas are data privacy, health information, and financial transactions. Compliance can be complex and risky, so some companies outsource it to experts.
GRC in the Evolving Cybersecurity Landscape
Global spending for security and risk management will expand year-on-year by 14.3% in 2024 to US$215 billion, according to a Gartner report. Many factors are driving the double-digit growth, including the adoption of new technologies that improve organizations' visibility, responsiveness, and agility in securing their entire digital ecosystems. The study also cited spending on data privacy and cloud security to record the highest growth rates in the coming year (more than 24% each), with Gartner predicting that "75% of the world's population will have its personal data covered by modern privacy regulations by 2025."
At least one presentation in the IANS Information Security Forum explored the disruptive impact of comprehensive privacy laws on business processes. As proposed, businesses could leverage data discovery and mapping as the first step towards sustainable privacy operations.
The forum also covered other areas where emerging threats might upend current security and compliance practices in favor of more proactive approaches:
Evolving supply chain and third-party risks
The rapid adoption of generative AI and large language models (LLM)
The evolving expectations of the ESG (Environmental, Social, and Governance) framework
The foregoing issues represent a huge challenge and an equally huge opportunity for organizations and their security and compliance partners. Fortunately, events like the IANS forum provide the perfect venue for information security practitioners to share insights, dive deep into emerging issues, and ideate the next-generation technologies and smart processes that could turn these challenges into a net positive for all stakeholders.
Unsurprisingly, the common denominator for achieving that is GRC.
How? Effectively managing new threats and vulnerabilities while optimizing profitability requires a risk-centric approach to business and security. Consistently meeting corporate objectives entails best practices in governance. Maintaining excellence and customer trust involves strict adherence to compliance standards.
While widely acknowledged as non-negotiables, the three components of GRC — governance, risk, and compliance — still rank among the most underrated ingredients for business success.
Your Action Items
The most striking and unanimous consensus at the IANS forum is arguably the need for unhindered visibility and a more proactive approach to governance, risk, and compliance. Everything else follows: How well you fix vulnerabilities and mitigate threats. And how well you maintain a secure environment that incentivizes innovation and drives business growth.
The right insights won't move an inch unless they are acted on.
Here are some simple steps to consider:
Integrate GRC into your strategy, culture, and operations. Don't treat it as a separate function or project.
Involve all stakeholders from the C-suite to the boots on the ground. Leadership buy-in is critical.
Use GRC frameworks, tools, and technologies that can help you automate and accelerate workflows, reduce errors, and improve process efficiencies.
Regularly monitor and track relevant indicators and metrics that quantify your GRC performance to enable continuous improvements.
Partner with a trusted managed compliance provider to unload all the heavy lifting so you can focus on core business goals.
GRC is not a one-size-fits-all solution. Each organization needs to tailor its GRC approach to its specific context, industry, and mission.
What is your mission?
Building Trust and Confidence with TrustNet.
TrustNet has performed hundreds of Assessments and has tremendous experience successfully guiding businesses through the process.