Fast-track your SOC 2 with TrustNet's SOC Accelerator+™, the industry leader for full lifecycle integrated readiness advisory, compliance automation, and audit services.
SOC Accelerator
Gap Assessment
Scope includes:

Scoping

Project Management

Risk Assessment

Controls Identification

Testing and Analysis

Remediation Roadmap

Reporting
SOC Remediation
Scope includes:

Remediation Planning

Prioritizing

Policy and Procedures

Project Management

Expert Advice
SOC 1 / SOC 2 Type 1 Audit
Scope includes:

Scoping

Project Management

Testing and Analysis

Reporting
SOC 1 / SOC 2 Type 2 Audit
Scope includes:

Scoping

Project Management

Testing and Analysis

Reporting
Elevate Your Compliance Efforts in Minutes!
Join us for a 45-minute session and gain the knowledge, clarity, and customized solutions you need. Leave confusion behind and navigate SOC 2 compliance with confidence.
In-depth understanding of SOC 2 compliance
Personalized next steps checklist
Cutting-edge compliance management platform
Save time with automated control activities
Detailed statement of work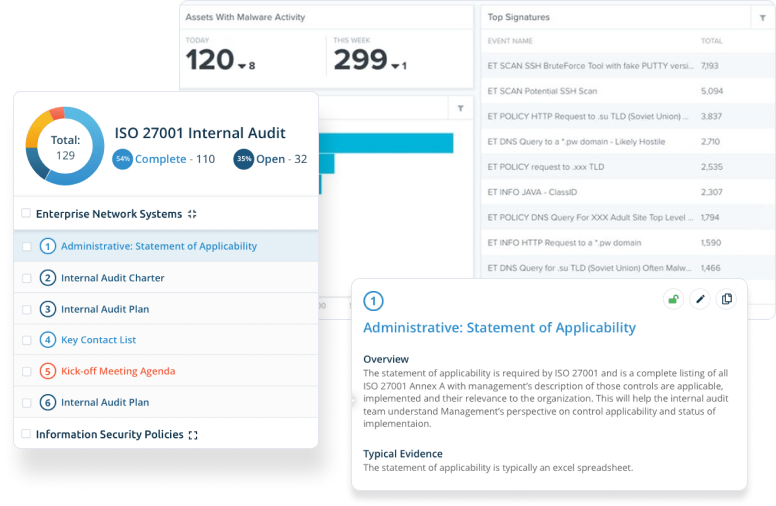 Your Fastest Path to SOC Compliance
Audit Management and Continuous Compliance by Experts
"TrustNet's extensive knowledge and experience navigating between various certification frameworks, allowed us to fast-track the audit process, leading us to complete the certification with confidence."
Chris Hagenbuch
Principal - Canda Solutions
"TrustNet has streamlined the Compliance process for my company. With weekly project status updates and reports, I am assured that my staff is up to date on all document submissions."
Andy Wanicka
President - Certified Medical Consultants
"TrustNet performs our annual SOC 2 Type 2 audit. The audit team is professional, highly experienced, and very easy to work with, making the audit process very streamlined."
Chris Porter
Director, IT and Security - Cervey
What does a SOC Report cost?
One of the most frequently asked questions from small local businesses to large global enterprises is what does a SOC Report cost? There are three primary cost components to the SOC Report:
SOC Gap Assessments
Initial assessment to determine the scope and identify gaps
SOC Remediation
Cost of technology, procedures, and resources to become compliant and close the gaps found in the Gap Assessment
SOC Audit & Report
Recurring annual cost to audit the controls and provide the SOC report
The cost of a SOC report is dependent on the scope of the audit, the size of your organization, processing complexity, and maturity of the controls. The overall cost of a SOC Report is also influenced by the scope of the SOC testing environment, number of in-scope Trust Services Principles, size of the organization, number of locations and data centers, and the type of SOC report, either a Type 1 or Type 2. Experienced assessors such as TrustNet provide a cost-effective approach to meeting the SOC Report requirements without comprising information integrity. The cost for a typical SOC Type 1 starts at $20,000, and SOC Type 2 starts at $30,000. Managing the cost of a SOC Report is, of course, very important and a sound approach. With experienced assessors like TrustNet by your side, a successful SOC assessment will provide long-term value to your organization. For nearly two decades, TrustNet has provided cost-effective SOC report services to hundreds of organizations across all industries and worldwide.
Other SOC 2 Certification Costs to Consider
If you spend a lot of time and money on a SOC 2 audit, it's critical to be confident about the cost.
Readiness assessment
An assessment is meant to teach your team on the audit scope and conduct preliminary research, including determining data stores, mapping workflow, and compiling a technological systems inventory. It's also an excellent time to notify some of your most important teams, such as legal and human resources, that some of your company's documentation and policies will need to change.
SOC 2 certification cost: Productivity 
Keep in mind that the people who will devote their time to the SOC 2 process will do so throughout the project. As a result, they'll be forced to take time away from other responsibilities to focus on the audit. Most companies do not consider this loss in productivity (at least not early enough). The main reason for this is that it's not a visible expenditure to consider.
It's not a task for your IT department or security staff. It's the work of a person with technological knowledge who can use that expertise to schedule the team effectively.
Training for personnel
The cost of staff training is an important SOC 2 audit investment. It's a good idea to start with yearly security awareness sessions, either through a third party (usually a cybersecurity company) or in-house. This is an educational program that attempts to educate your workers about data security procedures. 
SOC 2 audit cost: Building vs. buying decisions
You may need to invest in new technology as your SOC 2 audit gathers steam. These products will:
gather asset lists

create tickets to track compliance actions

administer security and reporting compliance
detect dangers and attacks

assess vulnerabilities
There will be a never-ending debate about whether to produce or buy these tools. If you have the in-house capacity to create these systems, you'll want to build them. If your business is smaller or doesn't have development expertise on hand, buying them may be the best option. Each one has its own set of requirements, but as a whole, a mid-market business may anticipate to spend 5-15K here.
Time and money are important factors to consider when deciding whether to develop or purchase. For example, should you opt for extensible open-source Access Onboarding & Termination Policy solutions at first or switch to another solution if your organization wants to get ahead?
SOC 2 compliance cost: Legal
All client and vendor agreements, contractor and subcontractor contracts, and employment documents should be reviewed with your attorney. These documents establish a basis for responsibility assignment that may be used to defend your privacy, confidentiality, and security policies in the future. Expect that revisiting these on an annual basis as part of an audit will be a continual SOC 2 expense.
Annual maintenance expenses
You'll need to complete an audit each year to keep SOC 2 compliance
Even if you stay with a SOC 2 Type I audit, it isn't cheap. Even so, obtaining a good SOC 2 certificate may save you money in the long run in a variety of ways:
More companies want to do business with you, raising your income.

Your SOC 2 report distinguishes you from the competition, attracting more consumers than others.

Your newly built secure technology prevents data breaches that can lead to millions of dollars in fines.
Understanding the True SOC 2 Certification Cost: What You Need to Know
SOC 2 certification is a voluntary process spearheaded by the American Institute of Certified Public Accountants (AICPA) that evaluates and reports on a service organization's security controls. 
These controls are specific to five Trust Services Criteria: Security, Availability, Processing Integrity, Confidentiality, and Privacy. The criteria relate directly to how an organization manages customer data – crucial in sectors where data breaches pose significant risk. 
Types of SOC 2 Certification 
Two types of SOC 2 certification are SOC 2 Type I and SOC 2 Type II. 
SOC 2 Type I 
SOC 2 Type I certification involves an analysis of a company's systems and processes. It specifically looks at compliance with the Trust Services Criteria at a specific point in time.  
Preparing for SOC 2 Type I certification often requires significant efforts from within the organization. This includes employee training, readiness assessments, remediation of nonconformities, and potential investment in new security tools like vulnerability scanners or multi-factor authentication systems. 
SOC 2 Type I certification improves cybersecurity and enhances their reputation among clients and partners who value data privacy and security. 
SOC 2 Type II 
SOC 2 Type II certification takes a deep dive into your company's control systems over an extended period, typically six to twelve months. This audit checks whether these mechanisms are operating effectively instead of looking at the design and description of controls like SOC 2 Type I does. 
It replicates real-world conditions more accurately, giving stakeholders more assurance about your commitment to data security. Companies that deal with sensitive data or operate in heavily regulated environments often choose this type of certification as it demonstrates a higher level of compliance and trustworthiness. 
Crucially, achieving SOC 2 Type II compliance requires stringent adherence to cybersecurity management norms, including regularly scheduled audits and implementing necessary system enhancements based on previous audit results. 
Cost Comparison: SOC 2 Type I and Type II Certification 
SOC 2 Type I 
Type I certification evaluates a company's controls at a specific time. This means that the assessment period is shorter, thus reducing the cost. However, it still includes costs for pre-assessment, external audit, and potential software licenses. 
SOC 2 Type II 
Type II certification, on the other hand, focuses on compliance over a period of 6-12 months. The extended period means more costs in maintaining compliance, including continuous monitoring, increased audit costs, and potential costs for fixing identified gaps. Additionally, the software licenses for SOC 2 certification can cost between $12,000 to $60,000. 
It is essential to understand these cost differences when considering which certification type is more appropriate for your company. 
Breakdown of SOC 2 Certification Cost 
The SOC 2 certification cost breakdown will comprehensively understand the expenses involved in achieving compliance. Read on to gain insights into the different stages and factors impacting the overall cost. 
Pre-Assessment Stage  
The pre-assessment stage is a crucial step in SOC 2 certification that helps organizations understand the actual cost of achieving compliance. This stage involves conducting a comprehensive gap analysis, which includes interviews, collecting necessary documentation, and preparing a pre-assessment report. 
The goal is to identify any gaps or areas of non-conformity with the Trust Services Criteria (TSC) and determine the effort required for remediation. Organizations can better estimate the costs associated with achieving SOC 2 certification and prepare for the subsequent external audit by assessing these gaps during pre-assessment. 
External Audit Stage 
The external audit stage is crucial to SOC 2 certification as it involves reviewing and validating a company's controls and processes. Certified public accountants (CPAs) conduct the external audit to ensure compliance with SOC 2 standards and requirements. 
This stage is included in the total cost of SOC 2 certification, as it requires expertise and thorough examination to confirm that an organization meets the necessary criteria. By undergoing the external audit, businesses can demonstrate their commitment to data security, reliability, and confidentiality. 
Fixing Gaps Until SOC 2 Type II Audit 
Fixing gaps until the SOC 2 Type II audit is crucial in obtaining SOC 2 certification. It involves addressing deficiencies or weaknesses in an organization's controls and processes to ensure compliance with SOC 2 requirements. 
This may require implementing new policies and procedures to strengthen security measures, protect sensitive data, and enhance operational integrity. The timeframe for fixing gaps can vary but typically ranges from 6 to 12 months before the scheduled SOC 2 Type II audit. 
Additional Costs Impacting SOC 2 Certification 
Additional costs impacting SOC 2 certification include productivity costs, internal blockers, and legal fees. 
Productivity Costs 
Implementing and enforcing SOC 2 policies and procedures can significantly impact an organization's productivity. Achieving SOC 2 certification, including tasks such as conducting a gap analysis, interviews, and collecting documentation, requires time and resources that could otherwise be dedicated to regular business operations. 
These additional responsibilities can distract employees from their primary duties, reducing efficiency and output. Engaging external consultants or vendors for pre-assessment can alleviate some of the workload on internal staff and improve overall productivity during the certification process. 
The costs of ensuring compliance with SOC 2 requirements go beyond financial expenses. It is important to recognize that there are productivity costs involved as well. 
As organizations focus on meeting the criteria for SOC 2 certification, valuable time may be diverted away from core business activities. This resource diversion can affect employee productivity and the smooth functioning of day-to-day operations within the company. 
Internal Blockers 
Internal blockers are obstacles within an organization that can impede achieving SOC 2 certification. These blockers may include employee resistance, lack of awareness or understanding about compliance requirements, inadequate security controls and policies, or insufficient resources dedicated to the certification process. 
Addressing these internal issues is crucial to ensuring a successful SOC 2 audit. It requires effective communication, employee training, implementation of security measures, and allocation of necessary resources to overcome these internal barriers. 
Legal Fees 
Legal fees are an additional cost that organizations may incur when pursuing SOC 2 certification. These fees can arise from the need to consult with legal professionals who specialize in cybersecurity and data privacy regulations. 
The complexity of an organization's operations, industry-specific requirements, and any potential legal issues related to compliance can all contribute to the overall cost of legal fees. 
When budgeting for SOC 2 certification, organizations must consider this aspect, as legal expertise is crucial in ensuring compliance and minimizing potential risks or liabilities. 
Approximate Cost for Small to Medium Businesses (SMBs)  
The approximate cost for SMBs varies depending on the number of employees, with up to 50 employees costing less than businesses with 50-250 employees. 
SOC 2 Certification Cost for SMBs with up to 50 Employees 
The cost of SOC 2 certification for small to medium businesses (SMBs) with up to 50 employees is estimated to be around $40,000. This includes various expenses such as pre-assessment, external audit, software licenses and installations, penetration testing (although not mandatory), awareness training, and fixing gaps until the SOC 2 Type II audit.  
In addition to these costs, SMBs may need to purchase licensed software ranging from $12,000 to $60,000. Security awareness training is another important aspect of the certification process and typically takes around 3-5 days to complete. 
Achieving SOC 2 certification requires a significant investment for SMBs with up to 50 employees. It's essential for organizations in this category to carefully budget and plan for the associated costs to ensure a smooth certification process.  
SOC 2 Certification Cost for SMBs with 50-250 Employees 
The estimated cost of SOC 2 certification for small to medium businesses (SMBs) with 50-250 employees is around $60,000. This includes pre-assessment expenses, external audits, software licenses, penetration testing, and awareness training. 
The pre-assessment stage involves conducting a gap analysis and interviews, leading to the preparation of a pre-assessment report. Additionally, SMBs will need licensed software installed from $12,000 to $60,000. 
Engaging external consultants can ease the workload on internal staff and provide valuable assistance throughout the certification process. 
SOC 2 Audit Preparation Timeline 
The SOC 2 audit preparation timeline varies based on the organization's size. SMBs with up to 50 employees typically take 6-9 months to complete the necessary preparations. 
However, for SMBs with 50-250 employees, the timeline can extend to 9-12 months due to increased operational complexity and audit scope. 
Timeline for SMBs with 50-250 Employees  
SMBs with 50-250 employees can expect the SOC 2 Type II certification process to take 6-12 months. This timeline allows for the necessary preparation and audits needed to ensure compliance. 
Businesses undergo several stages during this period, including gap analysis, interviews, documentation collection, and a pre-assessment report. Security awareness training is also essential to the timeline, typically taking 3-5 days to complete. 
While the duration may seem lengthy, it ensures that all aspects of the certification are thoroughly addressed and that companies have enough time to implement any necessary changes or improvements before undergoing the final audit. 
How to Lower the Cost of a SOC 2 Audit 
Implementing certain strategies and practices can lower the cost of a SOC 2 Audit. Here are some key actions to consider: 
Engage in thorough pre – assessment preparation, including conducting a comprehensive gap analysis to identify potential weaknesses or gaps in compliance.
Implement security controls and measures before the audit to ensure readiness and reduce remediation costs.
Provide regular employee training on security protocols and best practices to minimize risks and improve overall compliance.
Consider engaging external consultants or vendors with expertise in SOC 2 certification, as their guidance can help simplify the audit journey and reduce internal workload.
Leverage existing security infrastructure and technologies to meet SOC 2 requirements instead of investing in new tools that may lead to additional expenses.
Opt for independent auditing firms or service providers offering competitive pricing packages without compromising quality assurance.
Maintain continuous monitoring and proactive evaluation of security controls throughout the year, rather than solely focusing on compliance during the audit period.
Regularly review and update policies, procedures, and documentation related to data protection, access controls, incident response plans, etc., which can help avoid costly non-compliance issues.
Collaborate with peer organizations within your industry to share best practices, resources, and experiences regarding SOC 2 audits, ensuring efficient use of resources while reducing costs collectively.
Schedule a Meeting With Us
How Is A SOC 2 Audit Different With TrustNet?
A SOC 2 audit involves using both human expertise and technology to assess your company's data security systems, protocols, and practices. Obtaining your audit from TrustNet will provide you with an unparalleled partner in the space, with the expertise and customized guidance that can only come from a human team with decades of proven experience in the field.
We understand that every business has its own unique set of needs, constraints, and systems. Instead of performing template-style audits, we take time to listen and learn. When you receive your report, you can rest assured that it will be carefully crafted to meet your organization's unique requirements while simultaneously ensuring your full compliance with SOC 2 standards.