ISO 27001 Gap Assessment
Scope includes:

Scoping

Project Management

Risk Assessment

Controls Identification

Testing and Analysis

Remediation Roadmap

Reporting

Elapsed time:
2 to 3 months
ISO 27001 Initial Certification Review
Scope includes:

Scoping

Project Management

Testing and Analysis

Reporting

Elapsed time:
6 months
ISO 27001 Surveillance Audits
Scope includes:

Scoping

Project Management

Testing and Analysis

Reporting

Elapsed time:
Annual
Elevate Your ISO 27001 Compliance Efforts in Minutes!
Join us for a 45-minute session and gain the knowledge, clarity, and customized solutions you need. Leave confusion behind and navigate ISO 27001 compliance with confidence.
In-depth understanding of ISO 27001 compliance
Personalized next steps checklist
Cutting-edge compliance management platform
Save time with automated control activities
Detailed statement of work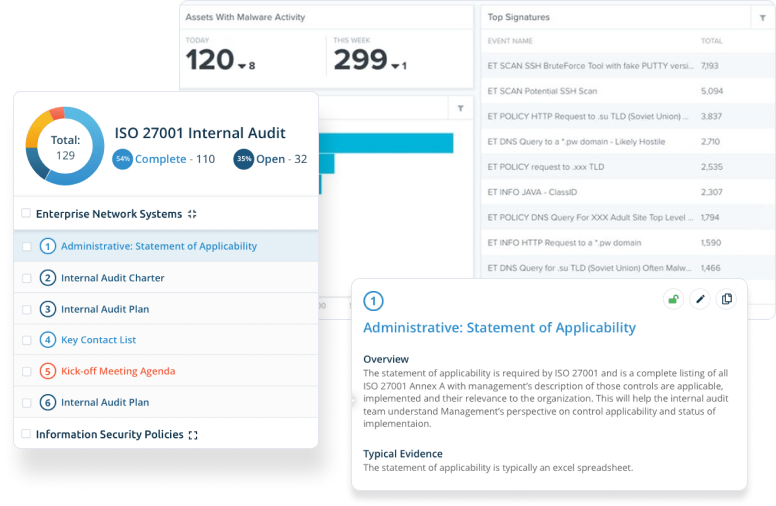 ISO 27001 Accelerator Program
Your Fastest Path to ISO 27001 Compliance
Audit Management and Continuous Compliance by Experts
"TrustNet's extensive knowledge and experience navigating between various certification frameworks, allowed us to fast-track the audit process, leading us to complete the certification with confidence."
Chris Hagenbuch
Principal - Canda Solutions
"TrustNet has streamlined the Compliance process for my company. With weekly project status updates and reports, I am assured that my staff is up to date on all document submissions."
Andy Wanicka
President - Certified Medical Consultants
"TrustNet performs our annual audit. The audit team is professional, highly experienced, and very easy to work with, making the audit process very streamlined."
Chris Porter
Director, IT and Security - Cervey
What does an ISO 27001 Assessment cost?
ISO 27001 certification is the global gold standard for organizations wishing to demonstrate their commitment to digital systems security. Displaying this certification badge inspires customers' confidence, furthers an internal culture of security awareness, and, most importantly, helps to ensure ongoing compliance and improvement.
One of the most frequently asked questions from small businesses to large global enterprises is what does an ISO 27001 Assessment cost?
There are three primary cost components of ISO Certification:
ISO 27001 Gap Assessments
Initial assessment to determine the scope and identify gaps
ISO 27001 Remediation
Cost of technology, procedures, and resources to become compliant and close the gaps found in the Gap Assessment
ISO 27001 Audit & Report
Recurring annual cost to audit the controls and provide the ISO 27001 report
TrustNet will partner with you as you walk through every step of your ISMS ISO 27001 certification. The services you receive will include precertification (scope and risk assessment, remediation plan development, gap closure, registrar selection, ISMS artifact development, incident response, internal audit, and certification support) and the actual certification audit.
The cost of an ISO 27001 Assessment is dependent on the scope of the Information Security Management Systems, size of the organization, number of locations and data centers, and complexity of the IT environment. Experienced ISO 27001 assessors such as TrustNet provide a cost effective approach to meeting the ISO 27001 requirements without comprising information integrity. The cost for a typical ISO 27001 Assessment starts at $15,000. Managing the cost of the ISO 27001 Assessment is of course very important – and a sound approach, with experienced assessors will provide long-term value to the organization.
ISO 27001 Cost: Factors to Consider and Budgeting Tips
Overview of ISO 27001 Certification
ISO 27001 certification signifies that an organization has implemented a comprehensive Information Security Management System (ISMS). This globally recognized certificate is upheld by the International Standards Organization, assuring stakeholders of the company's commitment to securing private and sensitive information.
ISO 27001 works through a risk assessment approach, including creating policies, procedures and control measures to safeguard data.
Gaining ISO 27001 certification involves several important stages such as readiness testing, implementation of necessary systems and tools, employee training, gap analysis; along with internal and external audits.
These rigorous processes are necessary to obtain this trusted security framework label. However, it goes beyond just compliance; it ensures your business's resilience against cyber threats while potentially opening new market opportunities for organizations.
Factors Influencing ISO 27001 Cost
The factors influencing the cost of ISO 27001 certification include the readiness stage, audits, preparation costs, implementation costs, and maintenance costs.
Readiness Stage
Getting your business up to speed for the ISO 27001 certification process starts with the readiness stage. This crucial step involves defining the scope of your Information Security Management System (ISMS), conducting a comprehensive risk assessment, and implementing stringent policies and controls.
Your company's size, type of data in your ISMS, and internal expertise versus hiring consultants can influence the cost of this stage.
The readiness stage's costs may vary but typically range from $10,000 to nearly $40,000. Remember that adopting a do-it-yourself approach at this stage could prove costly since it factors in monetary resources and time dedicated by your in-house team for ISMS setup.
On the other hand, seeking expert help by hiring an ISO 27001 consultant might require an upfront expenditure of around $30,000 but can potentially reduce overall costs.
Stage 1 and 2 audits
Audits in stages 1 and 2 are pivotal elements of the ISO 27001 certification process. In stage 1, an initial review occurs where your Information Security Management System (ISMS) readiness is tested by examining your risk assessment approach and other preliminary aspects of your ISMS.
Challenging yet essential, it serves as a litmus test for businesses demonstrating their preparedness for further audits. Stage 2 then takes over with an in-depth look into how effective the developed ISMS is within the organization's operations.
This includes evaluating policies, procedures, and controls set up to manage information risks effectively. Auditors may interview employees or perform spot-checks to verify adherence to standards across different levels within the company.
The cost of these two stages can vary significantly based on factors like consultancy fees if you've opted for external help, administrative costs associated with audits, plus potential productivity loss during audit periods due to staff involvement in gathering necessary documents and evidence.
Surveillance and recertification audits
Surveillance and recertification audits are an integral part of maintaining ISO 27001 certification. These audits are conducted annually in the first two years to ensure ongoing compliance with the standard's requirements.
The costs for these audits typically range from $6,000 to $7,500 each. These audits involve reviewing the effectiveness and implementation of your Information Security Management System (ISMS), assessing any changes or updates made since the initial certification audit, and identifying any areas that need improvement.
By conducting these regular audits, organizations can demonstrate their commitment to maintaining a robust security framework and staying compliant with ISO 27001 standards.
Preparation Costs
Preparation costs for ISO 27001 certification can vary depending on the size and complexity of your organization. On average, the readiness stage alone can range from $10,000 to nearly $40,000.
This includes conducting a gap analysis, developing policies and controls, creating a statement of applicability (SoA), and implementing a risk treatment plan. Hiring an ISO 27001 consultant during this stage may cost around $30,000.
Investing in compliance or GRC software is also worth considering, with prices typically ranging from $3,000 to $10,000. Overall, these preparation costs are crucial for setting up a strong foundation for the subsequent phases of the ISO 27001 certification process.
Implementation Costs
Implementing ISO 27001 can involve various costs that organizations need to consider. The costs for implementing the standard can range from $10,000 to upwards of $100,000, depending on factors such as the size of the organization and its specific requirements.
These implementation costs may include hiring consultants or training employees, investing in security software and tools, conducting vulnerability assessments and penetration tests, and any lost productivity during implementation.
It is crucial for organizations to carefully assess these costs and allocate resources accordingly to ensure a successful implementation of ISO 27001.
Maintenance Costs
Maintaining ISO 27001 certification involves ongoing costs to ensure that your information security management system (ISMS) remains effective. These maintenance costs typically include regular internal audits, external surveillance, and recertification audits.
For a start-up with 50 employees, the annual cost of surveillance audits can range from $6,000 to $7,500 each. These expenses are necessary to demonstrate continued compliance and identify any areas for improvement in your ISMS.
While maintenance costs may vary depending on the size of your organization and other factors, they are essential for maintaining the integrity of your ISO 27001 certification over time.
ISO 27001 Certification Costs in Detail
This section explores the costs associated with ISO 27001 certification, including consultant fees, gap analysis, employee training, security software and tools, and more. Learn about the detailed breakdown of expenses to help you budget effectively for your certification journey.
ISO 27001 & 27002 standard requirements
ISO 27001 certification requires organizations to meet specific requirements outlined by the ISO 27001 and 27002 standards. These standards provide a comprehensive framework for establishing, implementing, maintaining, and continually improving an information security management system (ISMS).
The ISO 27001 standard focuses on establishing and certifying the ISMS, while the ISO 27002 standard provides guidelines for selecting and implementing security controls.
Compliance with these requirements is essential for achieving ISO 27001 certification and demonstrating a commitment to protecting sensitive information against potential threats and vulnerabilities.
ISO 27001 consultant fees
ISO 27001 consultant fees can vary depending on the size of your organization and the level of expertise required, for larger enterprises or if you choose to work with a Big Four auditing firm, consultant fees can exceed $40,000. On average, utilizing a consultant throughout the ISO 27001 certification process will cost around $30,000.
Hiring a consultant can provide valuable guidance and support, helping to expedite the certification process and ensure compliance with cybersecurity standards.
Gap analysis
Gap analysis is a crucial step in the ISO 27001 certification process that determines the gaps between your organization's current security measures and those required by the standard.
The cost of conducting a comprehensive gap analysis can vary depending on the size of your company, ranging up to $40,000 for larger enterprises.
Identifying these gaps is essential as it helps you understand what areas need improvement before implementing the necessary controls and achieving full compliance with ISO 27001 standards.
Penetration test and vulnerability assessment
A crucial step in achieving ISO 27001 certification is conducting a penetration test and vulnerability assessment. This involves testing the security of your systems and networks to identify potential weaknesses that unauthorized individuals could exploit.
Employee training
Employee training is a crucial element of achieving ISO 27001 certification. It plays a vital role in ensuring that employees understand and can implement the necessary policies and controls related to information security management.
While the specific cost of employee training is not provided, it should be noted that it can be a significant expense during the certification process. The cost of employee training may vary depending on company size and specific training requirements.
By investing in comprehensive and practical employee training, organizations can enhance their cybersecurity capabilities and reduce the risk of potential breaches or compliance issues associated with ISO 27001 certification.
Security software and tools
Security software and tools play a vital role in achieving ISO 27001 certification.
It is worth noting that using a compliance platform or GRC (Governance, Risk Management, and Compliance) software can automate evidence collection and streamline workflows, with costs typically falling between $3,000 and $10,000.
Additionally, leveraging the expertise of a consultant can help expedite the certification process while providing guidance and support in selecting appropriate security software and tools if needed.
The internal completion of ISO 27001 certification may incur costs related to security software and tools, particularly if additional resources or expertise are required within the organization.
Lost productivity
Lost productivity is a significant factor to consider when calculating the cost of ISO 27001 certification. Obtaining ISO 27001 certification requires time and resources from employees, which can result in reduced productivity for the company.
Implementing the necessary measures to meet ISO 27001 standards may take employees from their regular duties, leading to delays or disruptions in day-to-day operations. Additionally, the certification process itself can be time-consuming, with audits and assessments requiring employees' active involvement.
As a result, companies should carefully evaluate how lost productivity will impact their budget and make appropriate adjustments to minimize any potential adverse effects on their overall performance.
Ways to Reduce ISO 27001 Costs
Hire a consultant for the readiness stage to reduce overall costs.

Prepare and implement tasks without external support to cut down on costs.

Leverage templates and training to reduce certification costs.

Streamline preparation by eliminating unnecessary documents and processes.

Employ an ISO 27001 consultant to navigate the certification process and develop custom solutions.
Schedule a Meeting With Us