Blog  Cyber Attacks in the Oil Industry: How SOC 2 Compliance Can Help
Cyber Attacks in the Oil Industry: How SOC 2 Compliance Can Help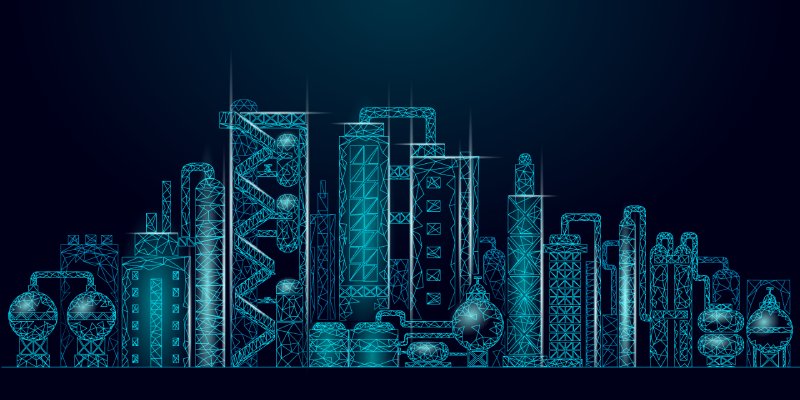 The oil and gas industry faces mounting security risks that require a smarter and more committed approach to compliance. Oil companies have already figured in some of the most devastating cyberattacks in history, affecting not only the targeted organization but often also its wider ecosystem. The Colonial Pipeline ransomware attack, for example, triggered a regional emergency declaration in 17 U.S. states following severe fuel shortages and other market disruptions. Various analyses of such attacks on a critical infrastructure prescribe proactive risk mitigation measures, including continuous adherence to frameworks such as SOC 2 and the adoption of advanced cybersecurity solutions.
This article outlines how SOC 2 compliance — in tandem with proactive security measures — can significantly reduce the exposure of oil companies to the growing sophistication and severity of cyber threats.
Cybersecurity Risks in the Oil Industry
Because of the potential for catastrophic environmental, economic, and societal damage, cyber threats in the oil sector have been the focus of industry regulators and IT security firms for a long time. But while oil companies have been propping up their defenses, cybercriminals have also been evolving their tools and techniques.
The industry's financial scale and its continued reliance on legacy digital systems make it a prime target for cyberattacks. Adequately incentivized, state-sponsored hackers, cybercriminals, malicious insiders, and other threat actors seek to disrupt, damage, or steal sensitive sector information or resources. They do so by exploiting vulnerabilities in the information and operational technology (OT) systems that manage the sector's key processes: exploration, production, refining, and distribution of oil and its derivatives.
Cyber risk in the sector stems from five primary agents:
State actors – these are hacker groups sponsored by an adversarial state that launch cyberattacks for strategic or geopolitical objectives such as espionage, sabotage, terrorism, IP theft, and market manipulation.
Cybercriminals – these are individuals or groups that target the sector primarily for financial gain and/or prestige within the underground hacker ecosystem.
Insider threat – these are entities that have access to internal networks that may intentionally or inadvertently — through human error — compromise security. These include disgruntled employees, greedy executives, and contractors.
Natural events – these include natural disasters such as flash floods, earthquakes, wildfires, and storms that impact exploration, extraction, and other sites.
System failures – these events refer to hardware and software that fail unintentionally due to overloading, misconfiguration, and other causes.
Security Incidents in the Sector
Major cyber events can have a significant impact on the affected organization and on the wider ecosystem. They can lead to:
data breaches
financial losses
business disruption
intellectual property theft
regulatory violations
expensive lawsuits
market volatility
environmental damage
public health and safety hazards
A Tenable report ranked the oil, gas, and energy sector as the tenth of 29 industries that experienced the most number of cyber breaches in 2022. The report tracked 1335 breach events in the sector, noting that ransomware attacks were common and that tactics such as spear phishing and the exploitation of third-party vulnerabilities facilitated network intrusion.
Among the most noteworthy cyberattacks on the industry are:
Colonial Pipeline ransomware attack. This 2021 attack caused the shutdown of a major pipeline that channels nearly 50% of the gas supply for the southeastern United States. The targeted company paid a reported ransom amount of US$ 4.4 million to the threat actor. Even then, the event caused severe fuel shortages and market fluctuations, prompting the U.S. president to announce an emergency declaration for 17 US states.
Attack on the Amsterdam-Rotterdam-Antwerp refining hub. This ransomware attack in 2022 targeted multiple companies managing oil refining ports and storage facilities in the critical Amsterdam-Rotterdam-Antwerp delivery network. The attack exacerbated the already volatile energy crisis in Europe.
Saudi Aramco cyberwarfare attack. This 2012 cyberattack deployed a computer virus capable of wiping files and destroying computers on a network. The attack on Aramco partially wiped out or destroyed around 30,000 workstations, which seriously disrupted the company's distribution operations, costing billions of dollars in damages.
Importance of Compliance for the Oil Industry
Compliance with industry standards and regulations can help oil and gas companies reduce their exposure to cyber threats and mitigate the impact of attacks that do occur. Several compliance frameworks and regulatory standards apply to the industry. These include the NIST Cybersecurity Framework (CSF), which was specifically developed for critical infrastructure; the ISO/IEC 27001, which provides guidelines on how to manage information security in organizations; and SOC 2, which provides a comprehensive set of criteria on how to implement adequate controls over data and information systems.
SOC 2 compliance is especially beneficial to oil companies because they deal with large volumes of data that are critical for their operations and decision-making (including those for customers, production, inventory, and market distribution). While voluntary, SOC 2 compliance has become best practice for building trust among businesses, customers, and third-party entities.
SOC 2 Benefits
SOC 2 stands for System and Organization Controls 2, a widely recognized auditing framework for assessing an organization's internal controls over its information systems. Developed by the American Institute of Certified Public Accountants (AICPA), the framework provides a comprehensive set of control objectives organizations should achieve across five main trust services criteria: security, availability, processing integrity, confidentiality, and privacy.
Various industry research highlight the importance of exposure management solutions that can help oil and gas companies uncover, identify, and mitigate the vulnerabilities of critical assets. The SOC 2 process includes relevant stages such as gap analysis, risk assessment, and remediation that squarely meet this need.
Well-suited for the oil and gas sector, SOC 2 compliance also delivers many compelling advantages:
Security – controls that help secure systems and data are adequate, reducing the risk of data breaches.
Availability – controls that help maintain the expected availability of systems and data to authorized users are in place and effective, reducing the likelihood and/or duration of downtimes.
Processing Integrity – controls that help ensure the completeness and accuracy of processes are adequate, reducing costly errors and inefficiencies.
Confidentiality – controls that help safeguard access to confidential information are adequate, reducing the likelihood of accidental disclosures and unauthorized access.
Privacy – controls that protect the privacy of personally identifiable information (PII) are adequate, ensuring adherence to data privacy regulations.
Trust – SOC 2 reports can enhance trust and reputation with stakeholders (including customers, business partners, and regulators) by demonstrating the organization's commitment to transparency and information security.
Regulatory Compliance – SOC 2 can help oil and gas companies achieve compliance with other regulations and standards relevant to the industry.
Profitability – SOC 2 reports have become a standard requirement in building business relationships. Consequently, SOC 2 compliance helps companies uncover opportunities that improve revenue performance.
Expert-guided SOC 2 Compliance
TrustNet provides state-of-the-art SOC 2 compliance solutions that have won industry awards and the confidence of hundreds of satisfied clients. For oil and gas companies, we help address cyber threats that commonly lead to network intrusions in the sector. To mitigate threats such as spear phishing and third-party compromise, we provide gap assessments, penetration testing, and phishing awareness training.
Partnering with TrustNet grants the following benefits:
A team of experts to guide you through every stage of the process, from start to finish
Advanced software platform to simplify, automate, and accelerate compliance workflows
Accredited auditing firm to conduct assessments, perform penetration tests/vulnerability scans, produce SOC 2 reports, and issue attestations
Our managed compliance services also help you:
Simplify SOC 2 audits
Save time and money
Ensure adherence to other regulatory and industry standards
Enhance customer trust and satisfaction
Expand business opportunities
SOC 2 Compliance Roadmap for the Oil Industry
Oil and gas companies can achieve SOC 2 compliance by taking the following steps:
Partner with an accredited and experienced SOC 2 auditor.
Define the scope and goals of SOC 2 compliance for your company. Determine the relevant trust services criteria and identify the report type you need.
Assess the current state of data and systems. Conduct a gap analysis to evaluate the current state of your security measures against the SOC 2 criteria. Prioritize the areas that need improvement.
Implement the remedial controls to meet the SOC 2 criteria objectives. This step involves designing and implementing the necessary controls to address the gaps identified in step 3, such as policies, procedures, technologies, or training. This step may also involve testing and validating the effectiveness of the controls.
Prepare for and undergo the SOC 2 audit. This step involves independent auditors who will verify the effectiveness of the controls you have implemented. This step also involves the issuance of your desired SOC 2 compliance report.
Maintain continuous compliance.
Conclusion
Oil, gas, and energy companies have long recognized the need for compliance standards that help manage the elevated risks in the sector. They know the importance of adequate security to keep their business and its extensive supply chain thriving. And they understand the need for robust security and the ability to provide assurance to various stakeholders.
That is why they partner with TrustNet for end-to-end security and compliance solutions that adapt to their unique needs and scale as they grow.
Have a chat with industry experts to guide you through SOC 2 compliance. 
Building Trust and Confidence with TrustNet.
TrustNet has performed hundreds of Assessments and has tremendous experience successfully guiding businesses through the process.